Congrats to our Grand Prize Winner Nate Viall who won a $100 gift card for hot dogs and an NHDSC t-shirt for voting in all 15 polls and sharing with the most friends.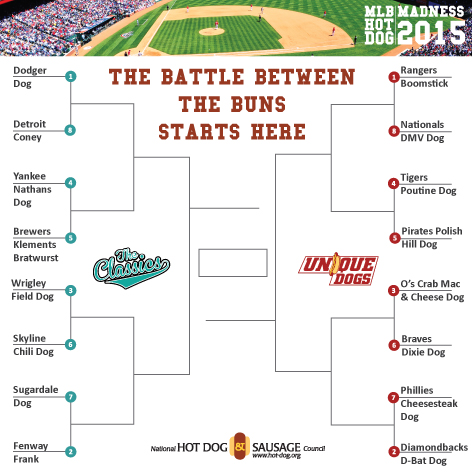 With baseball spring training in full swing and NCAA March Madness kicking off, the National Hot Dog and Sausage Council is bringing you, MLB Hot Dog Madness. The bracket will feature matchups between classic and unique hot dogs each day on our Facebook page and you pick the winners by voting for your favorites.
Hot dog fans won't just be choosing their favorite hot dogs, they have a chance to win as well. NHDSC t-shirts will be given away to people who vote in all 15 matchups on Facebook. The participant who shares the polls with the most people on Facebook will win a gift card for his or her favorite hot dogs or sausage.
The National Hot Dog and Sausage Council frequently hosts contests including for National Hot Dog Month in July and National Sausage Month in October.
Be sure to like our Facebook page for contest updates and information and enter to win great hot dog and sausage prizes. Prizes in the past have included $250 gift cards, fun NHDSC t-shirts from our Zazzle store and even hot dog water ride toys.
Have fun and enter often!