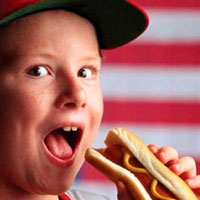 Attribute Statement to Janet Riley, president, National Hot Dog and Sausage Council
Washington, DC,  October 27, 2015 -- "What do you get when you mix a high profile food like a hot dog with a start-up company seeking some publicity and some CSI style testing?  The answer is a food scare so silly that Snopes has already dedicated a page to it.  Although the story was irresistible to some media outlets we urge reporters to restrain themselves from jumping on a publicity bandwagon aimed at fueling the company's Kickstarter account.
A start-up company in Northern California looking to showcase its molecular technology sampled different brands of hot dogs (we aren't sure of the total list) from just five of the nearly 40,000 retail grocery stores in America.
As we all see when we watch CSI, DNA can be everywhere.  It's easy to leave a human trail behind.   Yet, of all the samples tested, only one meat hot dog showed any evidence of human DNA and that was at the cellular level.  Experts say that a single cell or two can cause a sample to test positive.  In fact, if we tested people, there's a good chance that we might find a beef, pork or poultry cell on them simply from spending time in their kitchens.
It's notable that the company has said very little about its sample collection procedures.  It's entirely possible that the human DNA found could be linked back to the company's own staff – we just don't know.  Likewise, when they suggest that some products showed the presence of another species, like chicken in a beef product, this could also be from a single cell and even result from very practice of pulling samples from multiple packages in the same room as the company may have done.  We just don't know and they haven't said.  The Council has called and emailed the company to find out and we hope they will get back to us because like you, we want to know.
Until then, we can say this: Because the meat and poultry hot dogs were regulated and inspected by USDA (vegetarian products are regulated by FDA), we are confident that they are safe and wholesome, and that by any reasonable standard, they are what they say they are on the label."
-30-
Note to reporters:  if you reach Clear Labs, please ask them to call us at 202/587-4245.  We'd love a response to our many inquiries but the company's policy seems to be DNA (do not answer).