Hot dogs and sausages are the perennial MVP of concession stands at Major League ballparks across the country. Fans return each year to enjoy their classic favorites and to try new—often over-the-top, but always delicious—creations. We've compiled this guide featuring some of this year's most unique offerings, along with our classic favorites.
---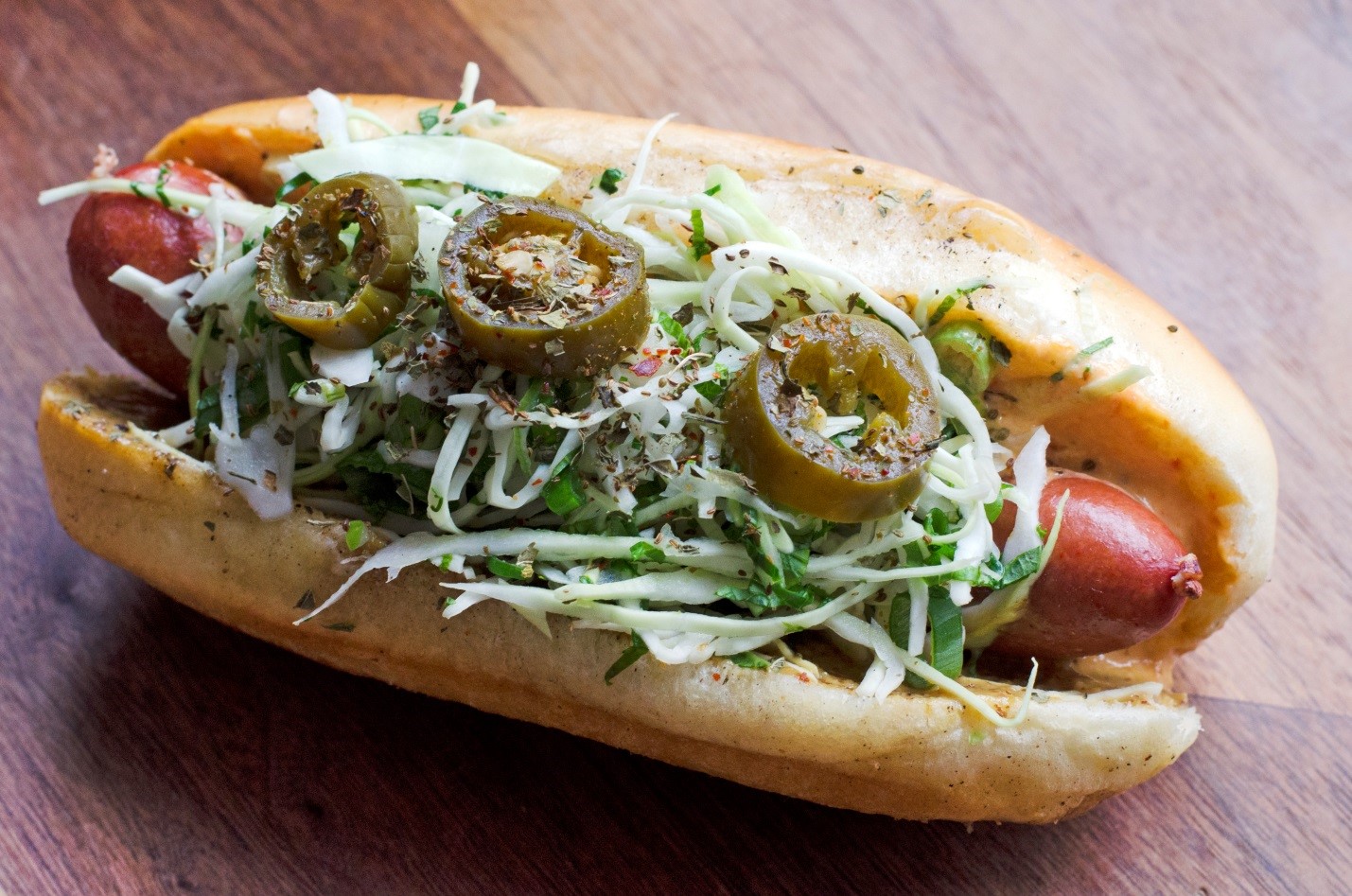 New in 2016 at Aramark Ballparks (Philadelphia, Colorado, Boston, Kansas City, Houston & Pittsburgh): Andrew Zimmern's Canteen Dog – Developed by chef Andrew Zimmern: Piedmontese hot dog with roasted vegetable mayo, house-made grain mustard, cabbage slaw and pickled jalapeños, on a toasted bun.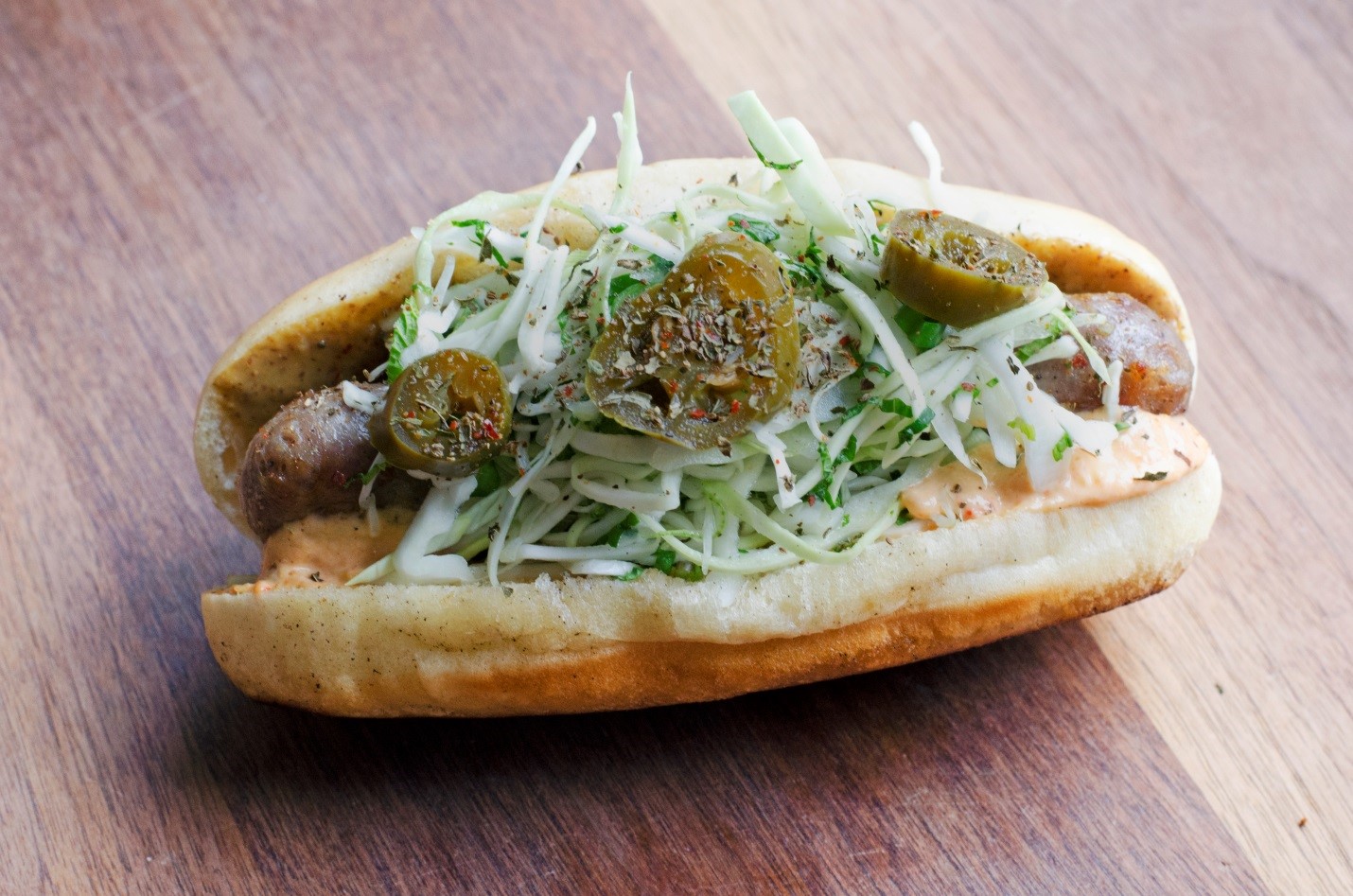 AZ's Canteen Sausage- Cheddar sausage with roasted vegetable mayo, house-made grain mustard, cabbage slaw and pickled jalapeños, on a toasted bun.
Atlanta Braves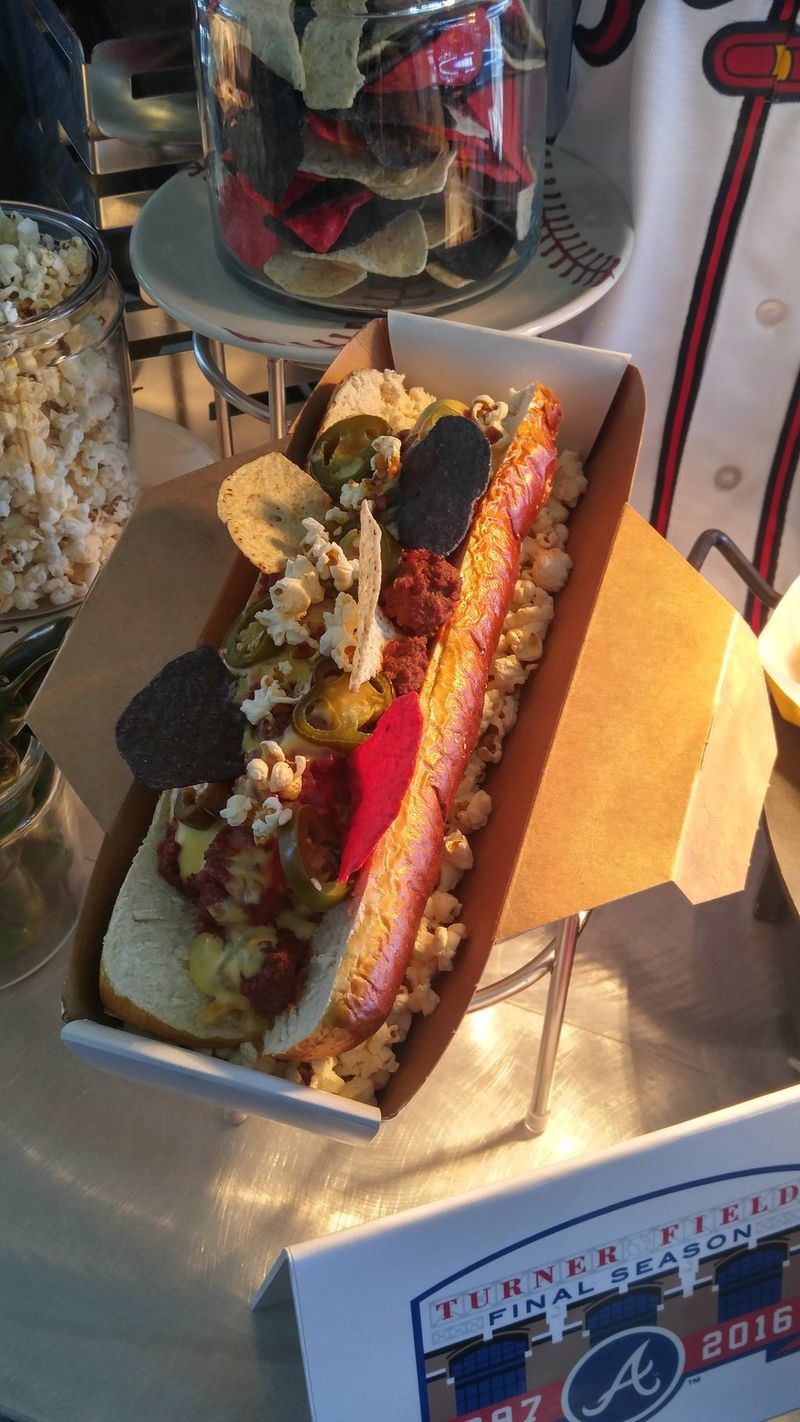 New in 2016: T.E.D. - "The Everything Dog": Standard foot-long hot dog, layered with fries, chili, nacho chips, beer cheese, jalapenos, and then topped with popcorn and a Coca-Cola infused BBQ sauce all served on a pretzel bun.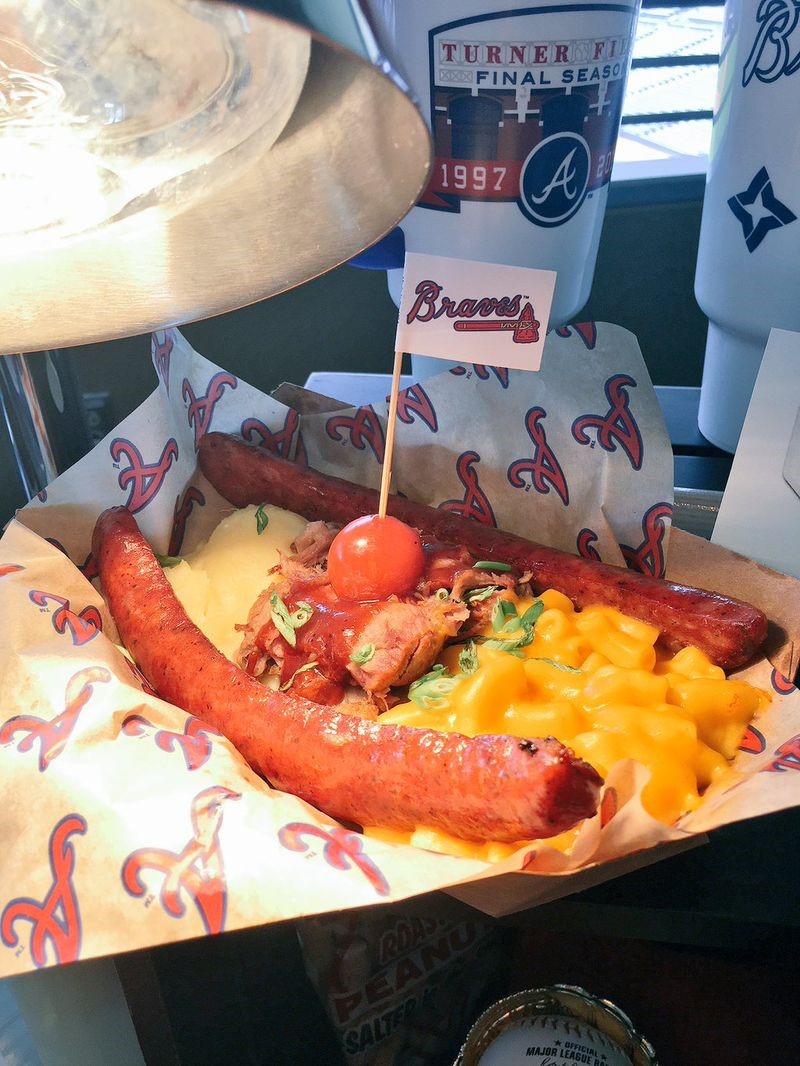 Sausage Sundae: A split smoked sausage with mac n' cheese, mashed potatoes, and pulled pork in the shape of a sundae topped off with BBQ sauce and cherry tomato.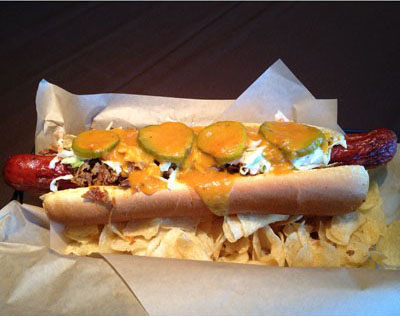 Dixie Dog: Flash-fried, all-beef dog — which is a whole foot long and weighs half a pound — topped with a mustard-based barbecue sauce, pulled pork, a creamy Southern-style slaw, and pickles.
Arizona Diamondbacks
New in 2016: Cheeseburger Dog: Hot dog made of char-grilled hamburgers that have been ground up and mixed with chopped smoked bacon, green onion and cheddar cheese.  They are then breaded with milk and flour, deep-fried and served on a hot dog bun with smoked bacon and secret sauce.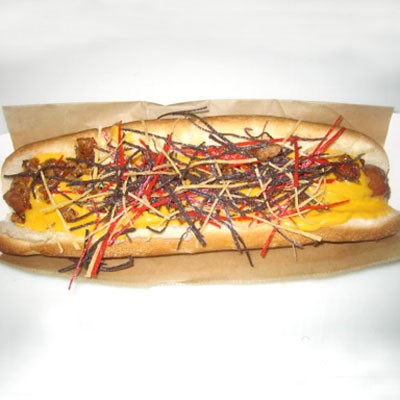 Arizona Dog: A foot-long all-beef hot dog is kicked up with chorizo sausage, nacho cheese, and colorful, confetti-like tortilla strips, giving this Arizona dog a nice crunch.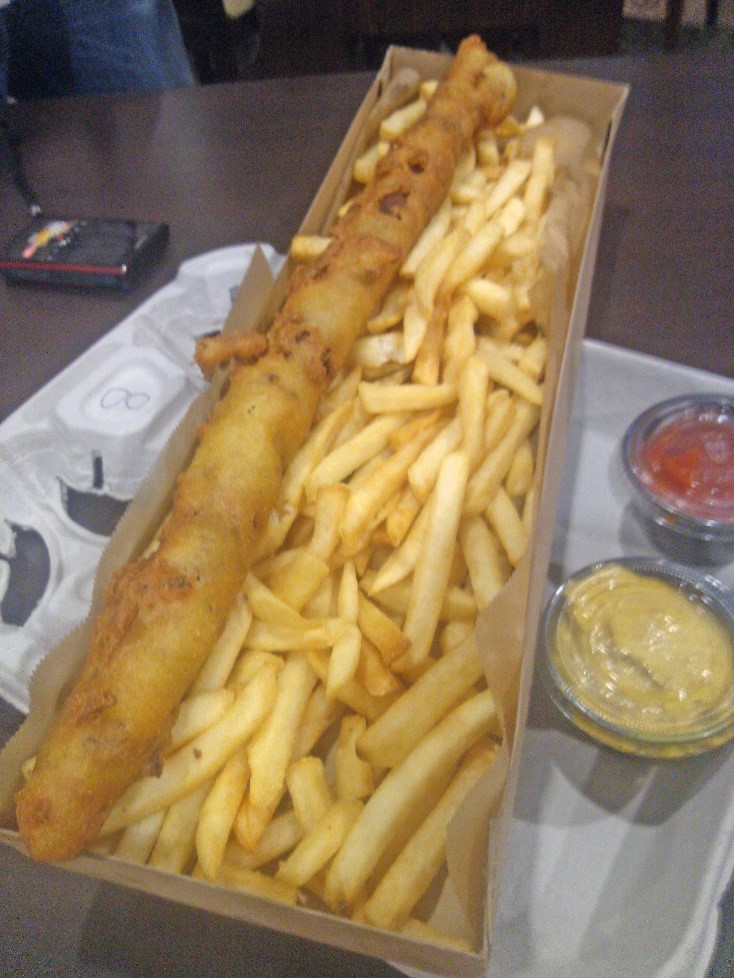 D-Bat Dog: An 18-inch corn dog stuffed with cheddar cheese, jalapenos and bacon, served with a side of fries.
Baltimore Orioles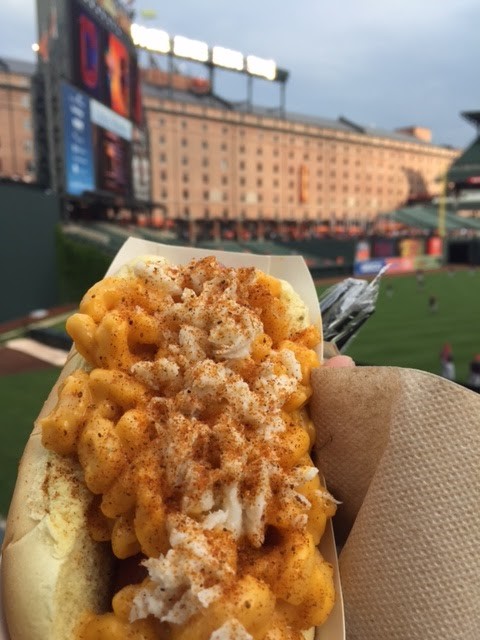 Crab Mac 'N Cheese Dog: Hot dog topped with macaroni and cheese and a generous lump of crab meat, seasoned with Old Bay.
Boston Red Sox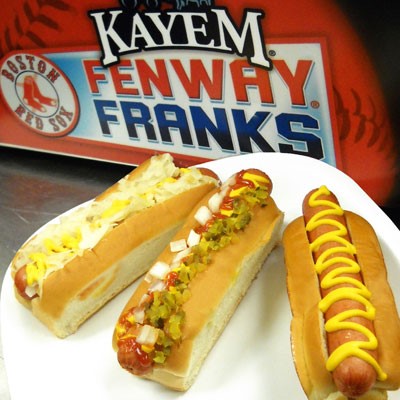 Fenway Frank: Steamed, grilled or rolled hot dogs wedged inside a classic New England-style bun.
Chicago Cubs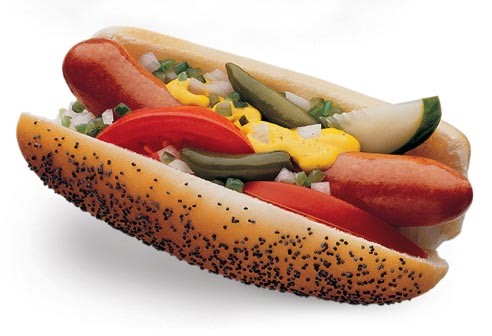 Chicago Dog: Grilled Vienna Hot Dog served with yellow mustard, neon relish, diced onions, sport peppers, tomato wedges & celery salt in a poppy seed bun.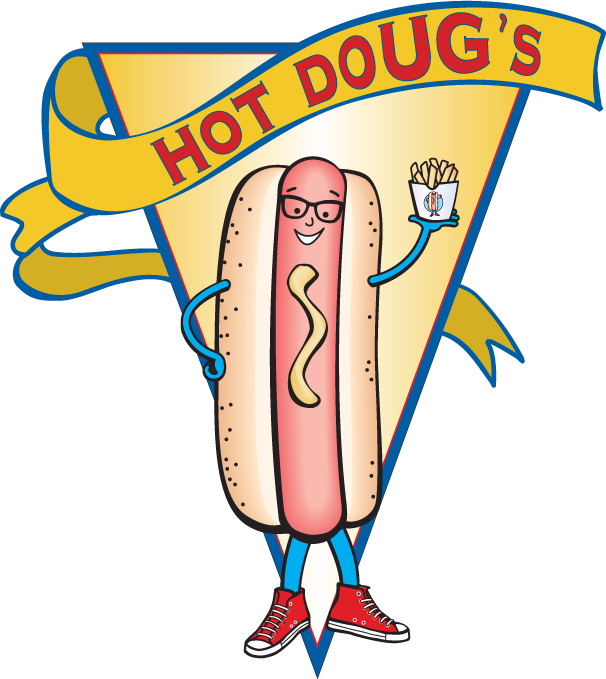 New in 2016: Hot Doug's Sausages:
The Barry Foote: Corned beef sausage topped with Russian dressing, Swiss cheese & crispy fried onions.
The Joe Wallis: Curry bratwurst topped curry dijonnaise, caramelized onions & smoked gouda cheese.
The Steve Traschel: Tequila & black bean sausage topped with jalapeno mustard and pico de gallo.
The Dave Rosello: Argentinian pork & bacon sausage topped with chimichurri & smoked Swiss cheese.

New in 2016: Gilbert's Craft Sausages
Caprese Sausage: Chicken Sausage topped with diced tomatoes, chopped basil, mozzarella pearls and balsamic glaze.
Aloha Sausage: Chicken Sausage topped with pineapple salsa, lime aioli, Cholula and crushed potato chips.
Beef & Cheddar: Beef smoked sausage topped with mac & cheese, bacon, caramelized onions and BBQ sauce.
Cincinnati Reds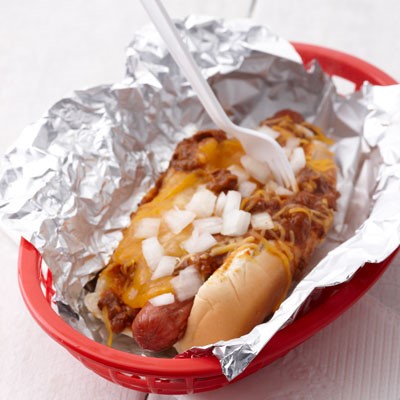 Cheese Coney: Hot dog cloaked in the famous Skyline saucy chili with hints of cinnamon and chocolate, the Cheese Coney is then topped with chopped onions and heaps of tangy, shredded cheddar cheese.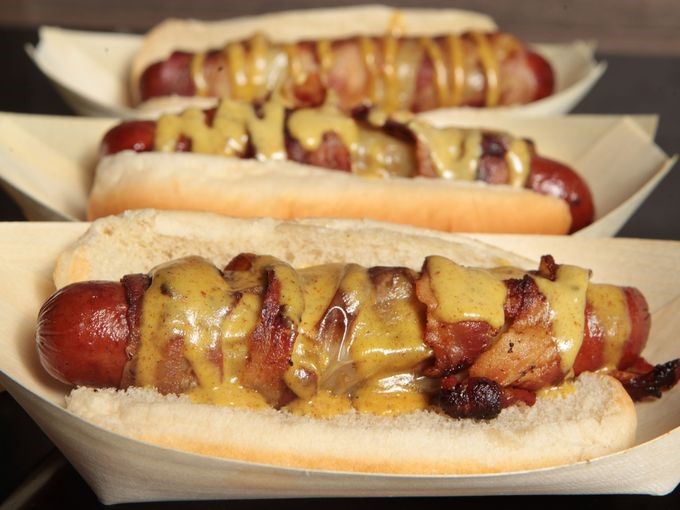 New in 2016: The Flying Pig: A bacon-wrapped mettwurst with hot peppers and spicy mustard.
Cleveland Indians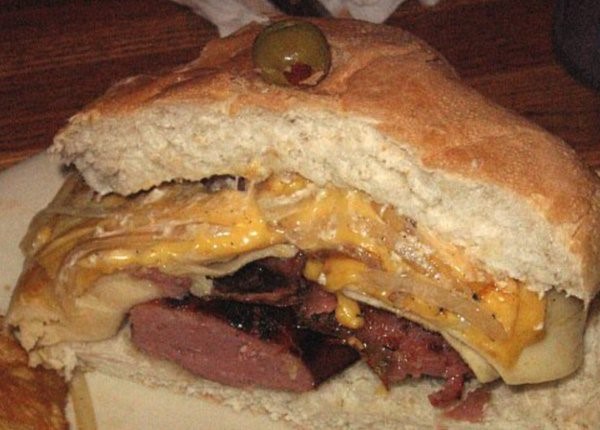 New in 2016: Fathead's Headwich: Sandwich with Kielbasa and pierogies.
New in 2016:Slider Dog: A hot dog topped with mac n cheese, bacon, and fruit loops.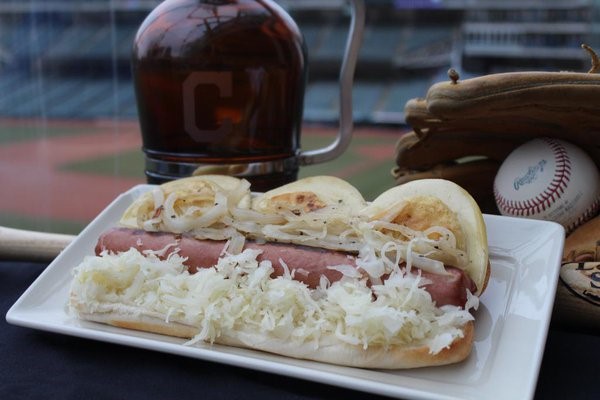 The Thomenator: A hot dog homage to Jim Thome with a 10-inch, all-beef hot dog topped with diced onions, Sauerkraut and three Pierogies.
Colorado Rockies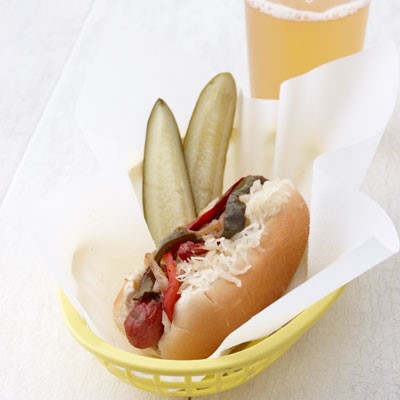 New in 2016: Beach Comber: Hot dog topped with pineapple, BBQ sauce and jalapeños.
Rockie Dog: fresh-off-the-grill foot-long dogs with grilled peppers, sautéed onions, and sauerkraut.
Detroit Tigers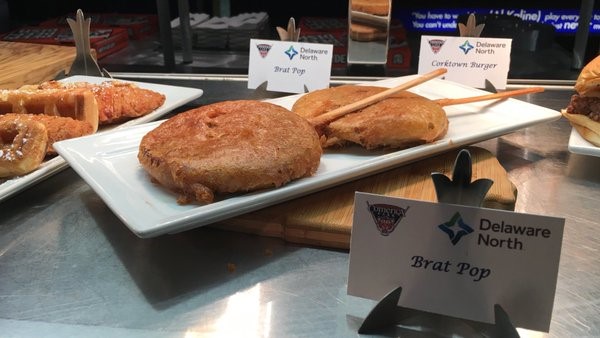 New in 2016: Brat Pop: Brat Patty battered, fried, and served on a stick.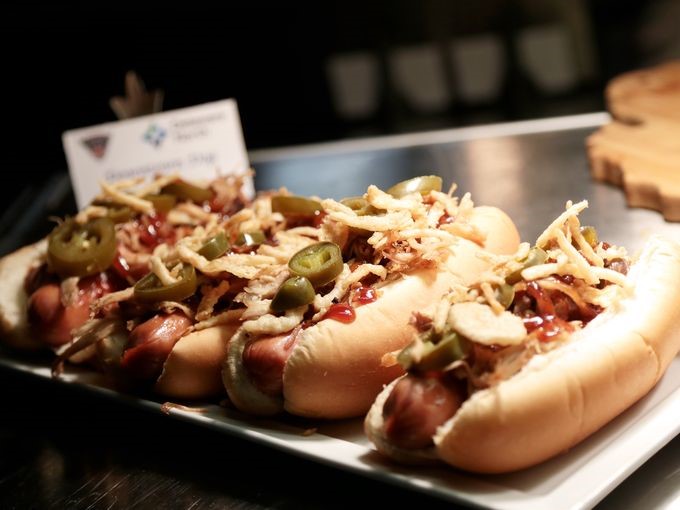 New in 2016: Downtown Dog: Made with natural casing frank topped with house smoked pulled pork, crispy onions straws, jalape–nos, and sweet barbecue sauce.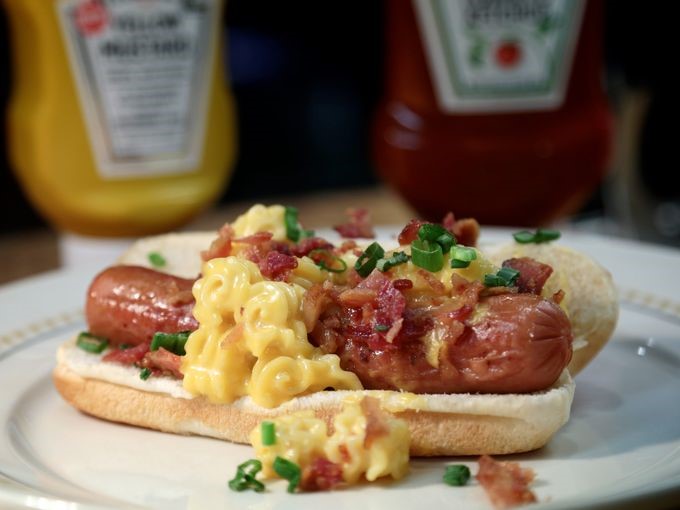 New in 2016: Mac Daddy Dog: Made with a natural casing frank topped with house made mac and cheese, bacon bites, and scallions.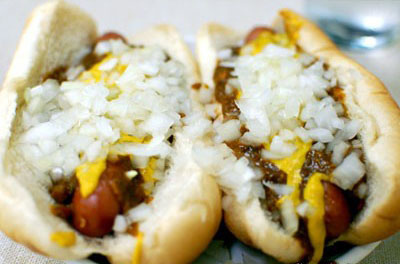 Coney Island: Beef hot dogs slathered with Detroit Chili Company Coney sauce (a "wet," beanless chili spiced with cumin) and sweet, chopped onions.
Chips and Dip Dog: This natural casing dog topped with French onion dip, potato chips and chopped green onions is sure to please any Detroit Tigers fan.  .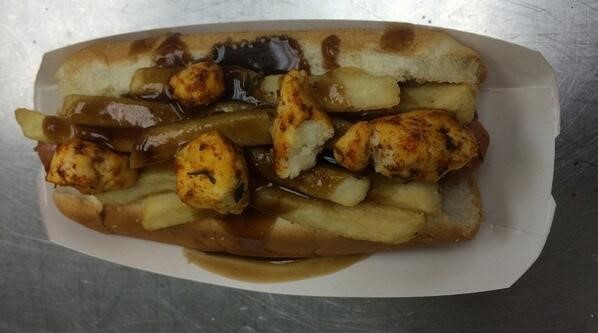 Poutine Dog:  Hot dog with french fries, cheese curds & beef gravy.
Houston Astros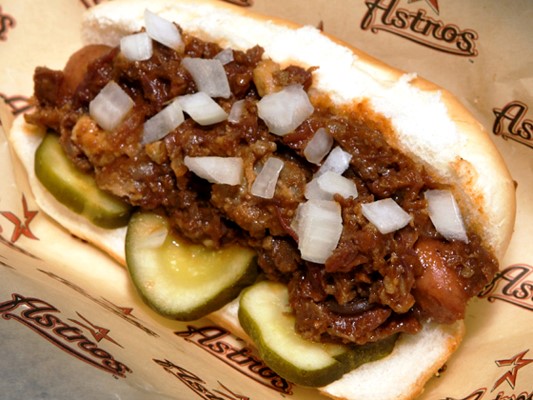 Texas Most Wanted Dog: A hot dog topped with slow cooked pork, chopped brisket, tossed in bbq sauce with pickles and raw onions.
Kansas City Royals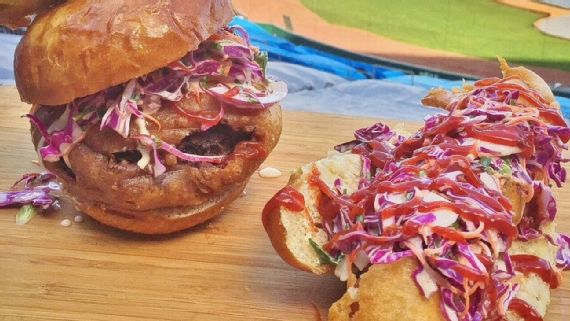 New in 2016: Champions Alley Dog: a bacon-wrapped, tempura-battered hot dog with sweet slaw and chipotle ketchup on a pretzel bun.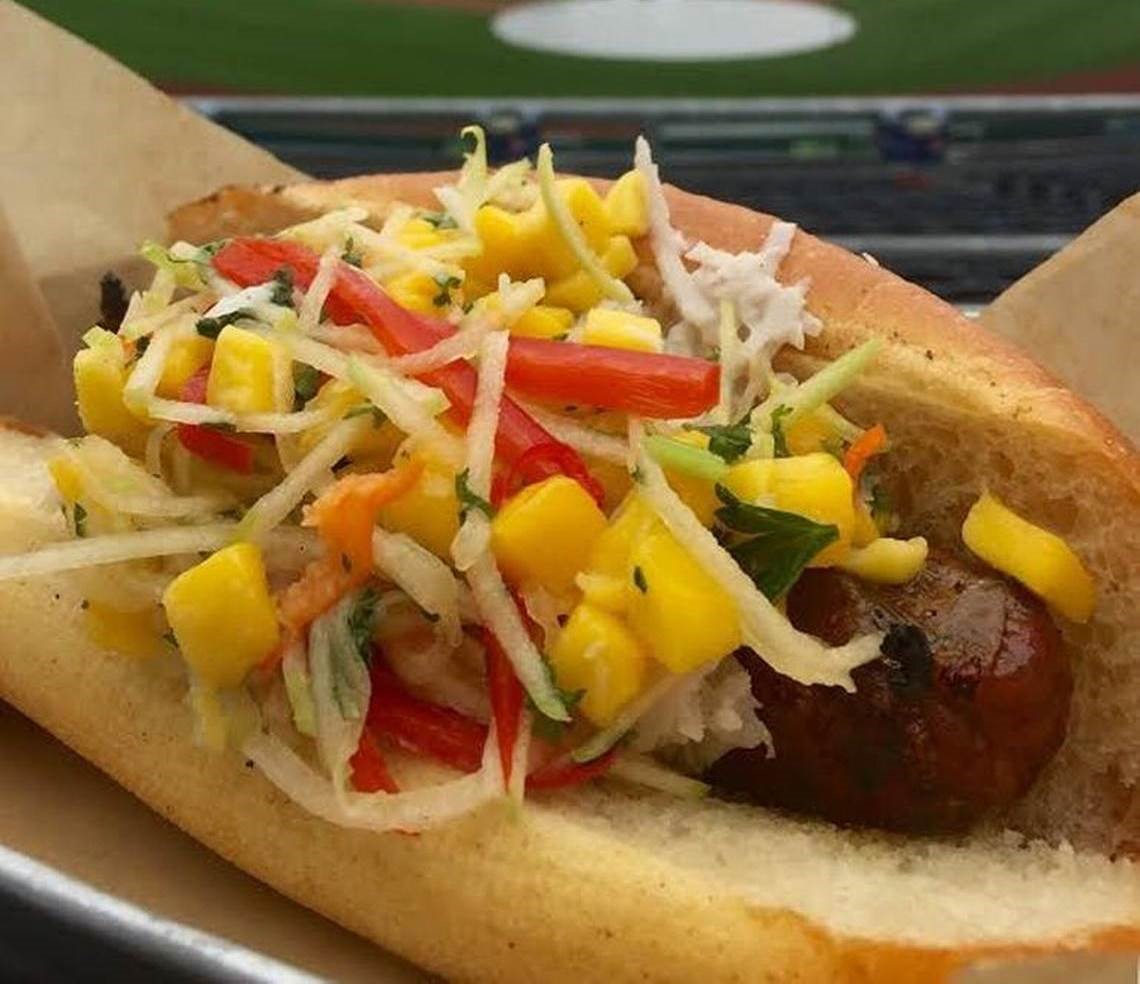 New in 2016: Jamaican Jerk Sausage Sandwich: on a toasted Farm to Market baguette with mango habañero salsa, green apple slaw and coconut chutney.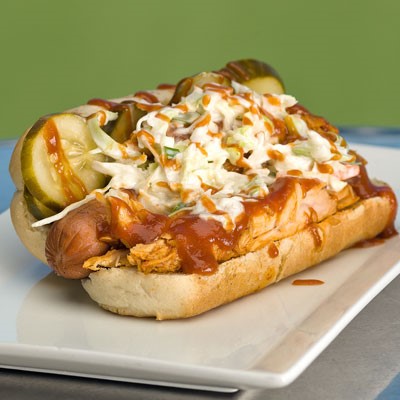 All-Star BBQ Dog: All-beef frank topped with succulent pulled pork, tangy coleslaw and pickles, and slathered in barbecue sauce.
Los Angeles Angels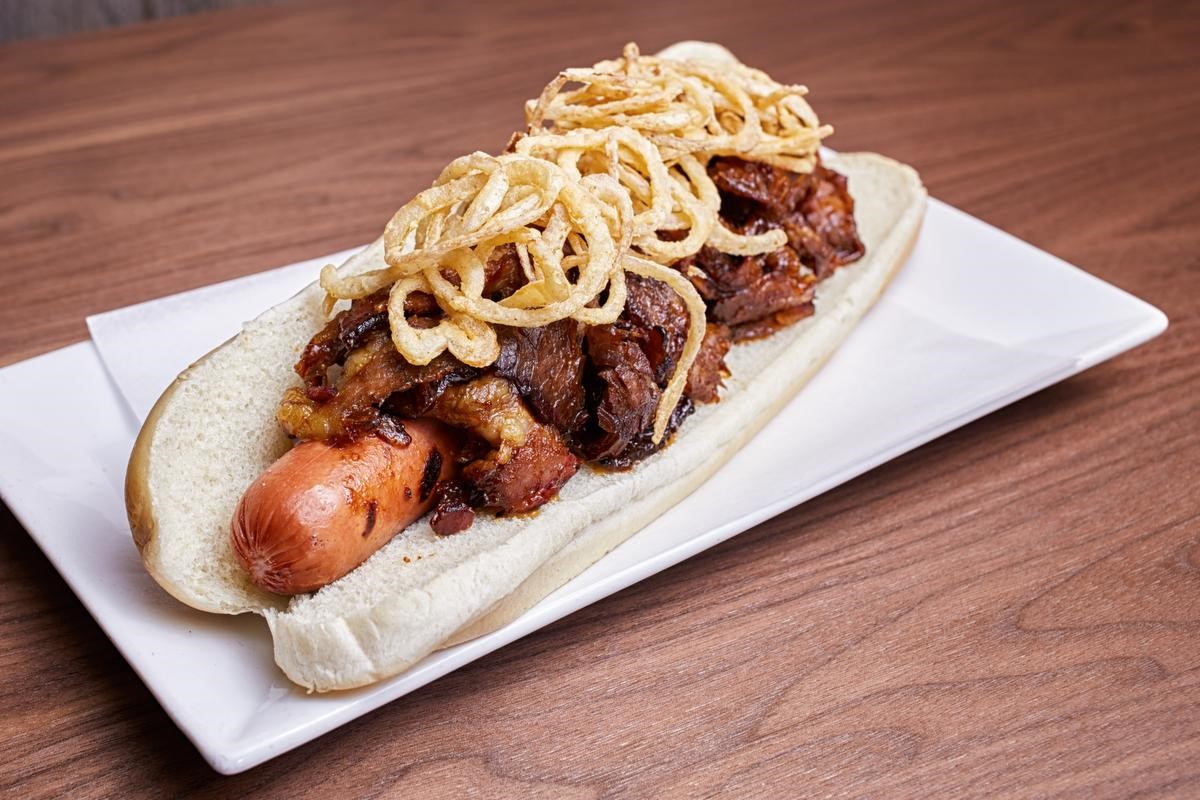 Legends Dog: A foot-long hot dog topped with our signature, house smoked, beef brisket. It's then finished with a healthy portion of bar-b-que sauce and served with a fork and knife.
Los Angeles Dodgers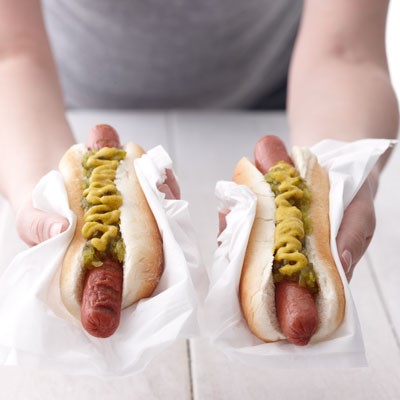 Dodger Dog: A foot-long, pork hot dog either grilled or steamed. The cooked dog is cushioned by a steamed bun with traditional toppings — mustard and relish.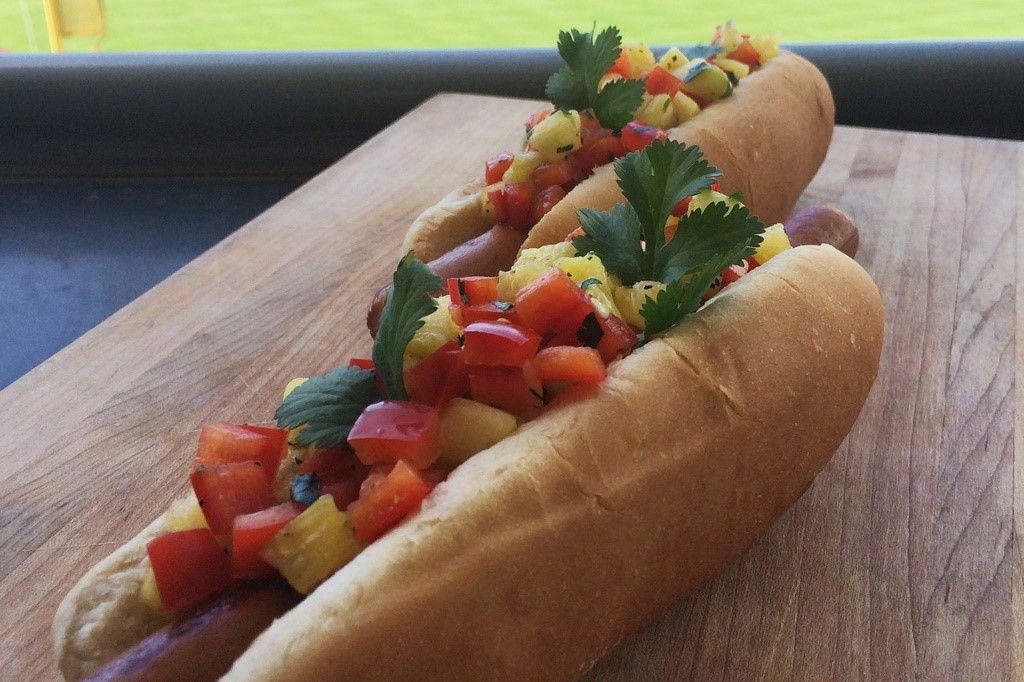 New in 2016: Hawaiian Dog: Quarter-pound all beef hot dog dressed with pineapple salsa, pineapple relish and teriyaki sauce in King's Hawaiian bread.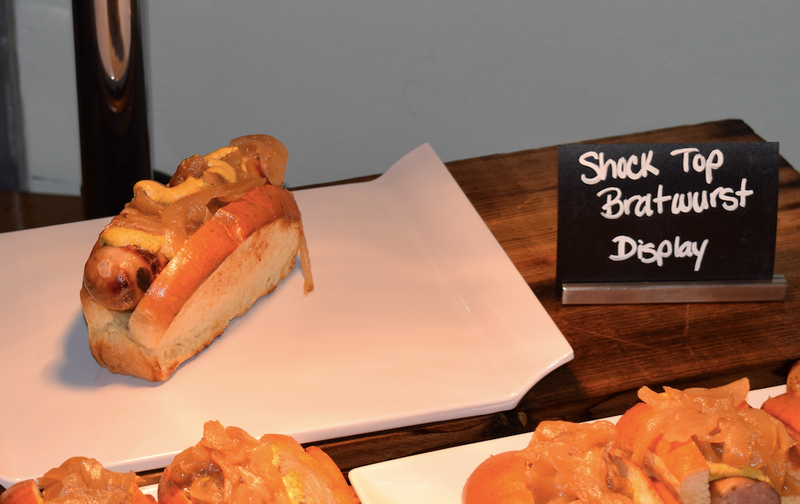 New in 2016: Shock Top Bratwurst: Grilled pork sausage infused with Shock Top beer, topped with caramelized onions and brown mustard, served in a "grilled lobster roll." .
Miami Marlins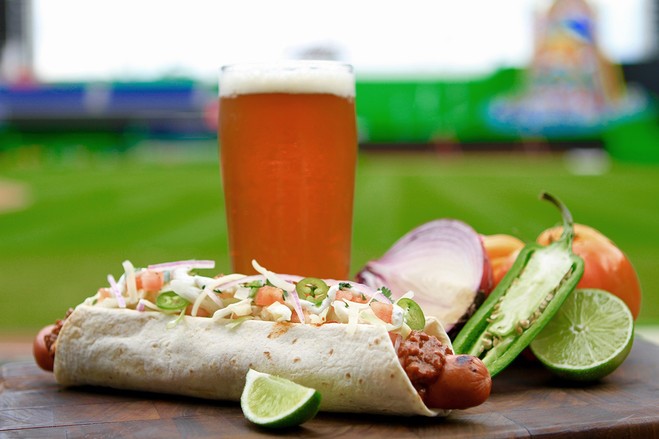 New in 2016: Miami Mex Dog: Hot dog dressed with chili con carne, Monterey Jack cheese, cilantro coleslaw and jalapeño-lime aioli wrapped in flour tortillas.
MIA BBQ Picnic Dog: A hot dog topped with smoked pulled pork, BBQ bourbon beans, and horseradish slaw.
Milwaukee Brewers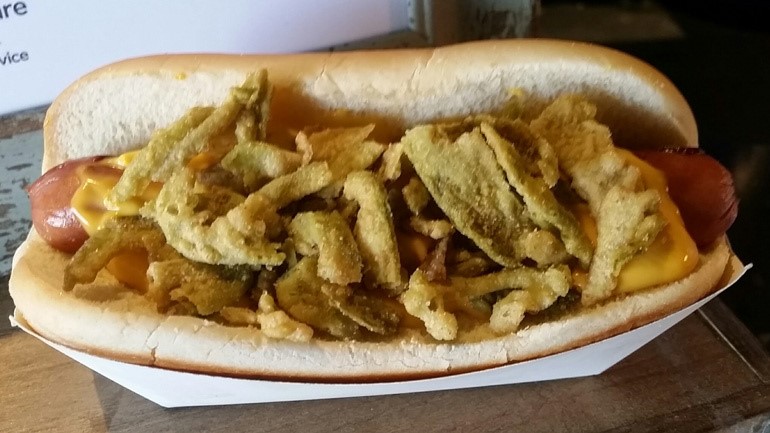 New in 2016: Jalapeno Popper Dog: Klement's hot dog, cheese sauce, fried jalapeno on a sausage roll.
New in 2016: Wisconsin Dog: Klement's hot dog, bacon, beer jam sauerkraut on a sausage roll.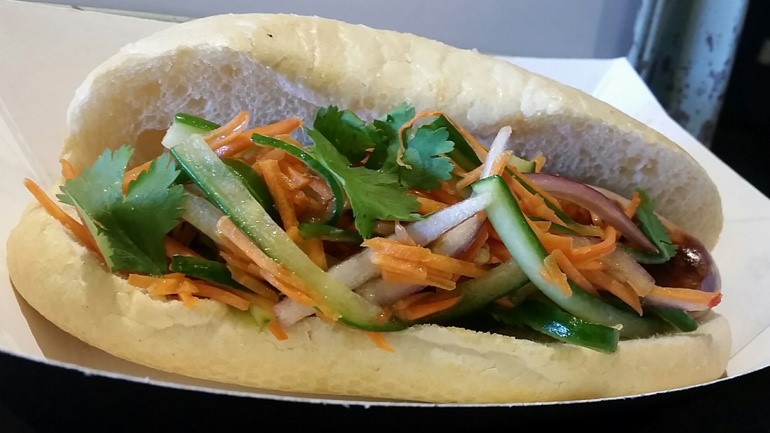 New in 2016: Banh mi Brat: Klement's bratwurst, Asian slaw, cilantro lime mayo on a Banh mi bun.
New York Yankees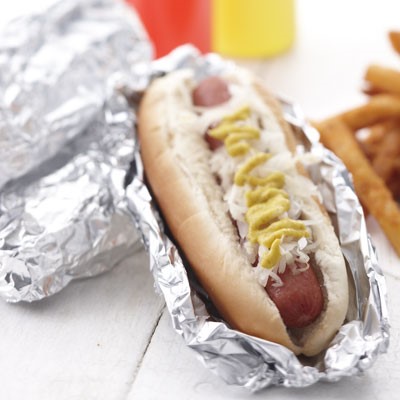 Nathan's Famous Natural Casing Hot Dog: A hot dog with red onions in sauce and sauerkraut.
Oakland Athletics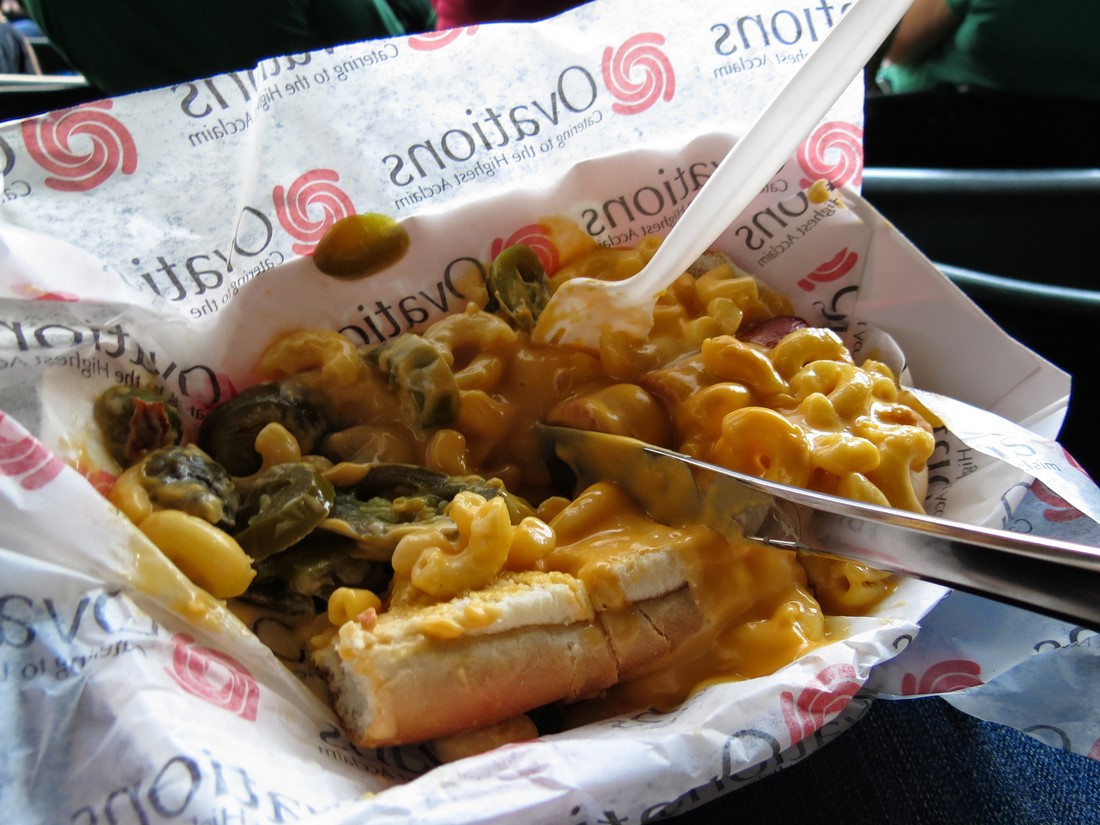 Coliseum Dog: Regionally sourced and branded hot dog, with peppers and onions, chili, cheese, mac n cheese, onion straws and jalapenos for toppings.
Philadelphia Phillies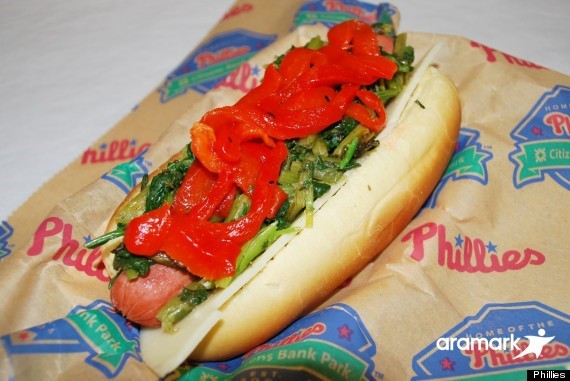 South Philly Dog: Classic dog garnished with broccoli rabe, sharp provolone and red peppers.
Pittsburgh Pirates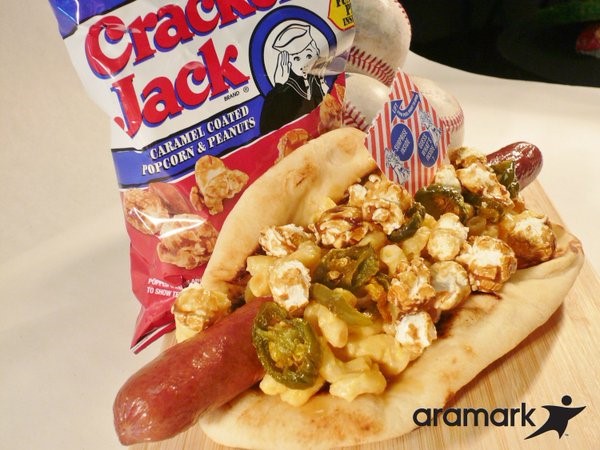 New in 2016: Cracker Jack & Mac Dog: A hot dog with Cracker Jacks, mac and cheese, salted caramel sauce and fried jalapeños on naan bread.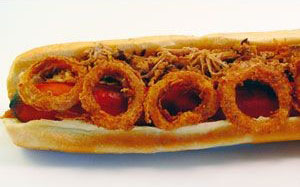 Smokehouse Dog: foot-long, all-beef dog is covered in crispy fried onions, as well as some extra meat in the form of pulled pork flavored with Kansas City-style barbecue sauce.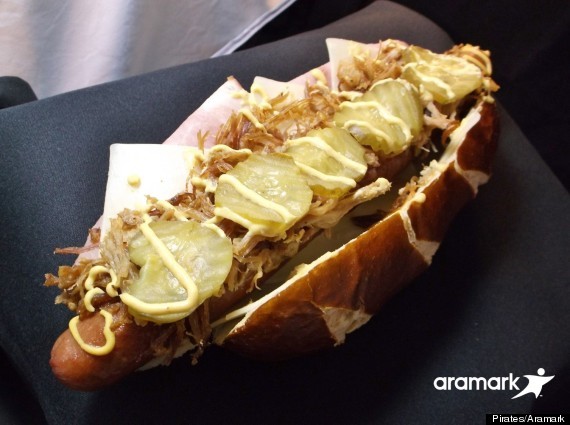 Cuban Pretzel Dog: Foot-long hot dog comes in a pretzel hoagie roll, topped with ham, pulled pork, Swiss cheese, Dijon mustard and pickles.
Seattle Mariners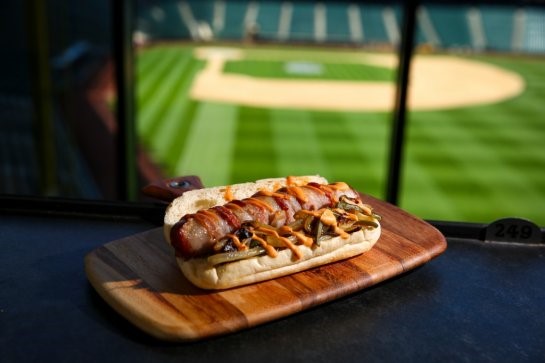 Bacon-wrapped hot dog: Hot dog wrapped in bacon and topped with grilled onions, jalapeños and chipotle sauce.
Tampa Bay Rays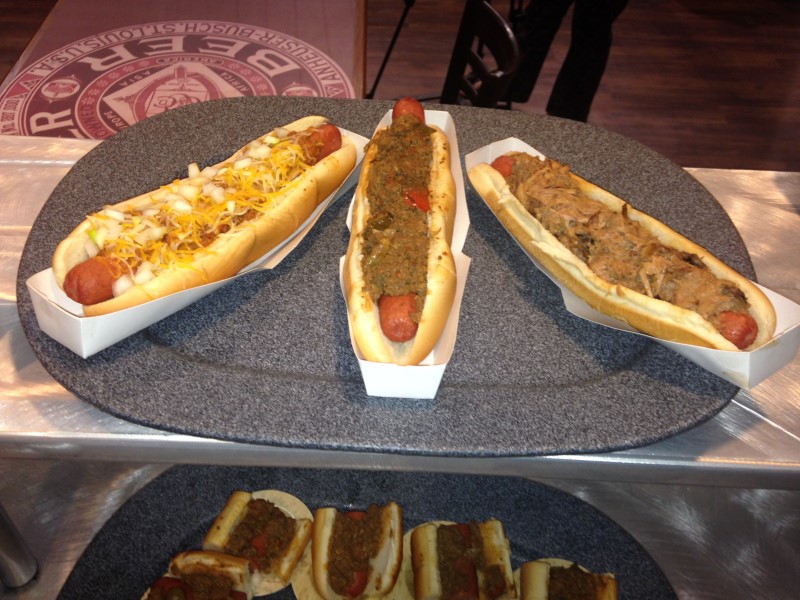 New in 2016: Ybor Dog: Featuring a signature Kayem all-beef jumbo hot dog with picadillo sauce, as well as perennial favorites chili-cheese dogs topped with bacon, or BBQ dogs with pulled barbecue pork.
Texas Rangers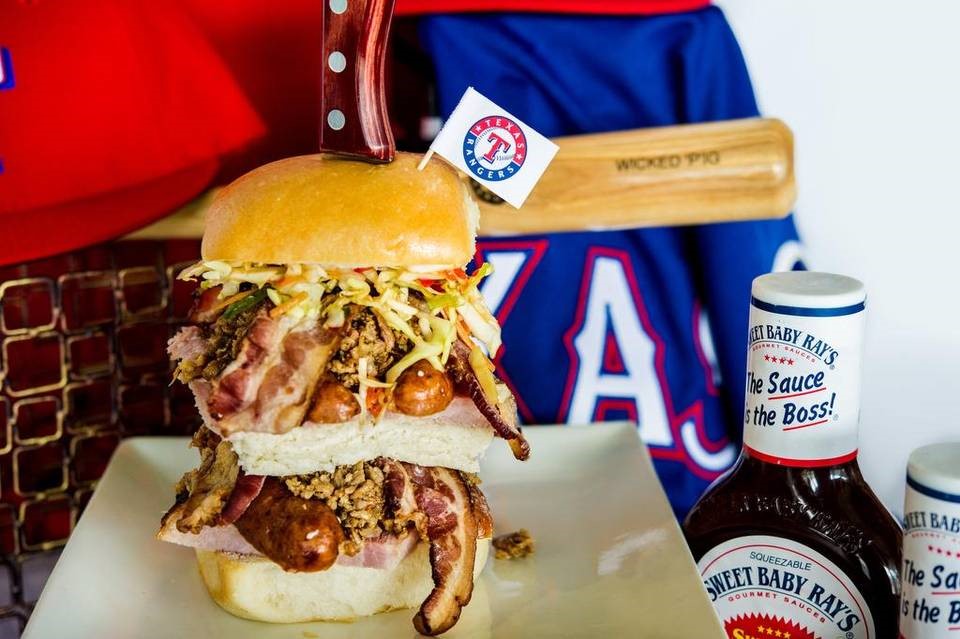 New in 2016: Wicked Pig: Sandwich topped with pulled pork, Danish bacon, sausage, prosciutto, ham, coleslaw and pork rinds, finished with BBQ sauce.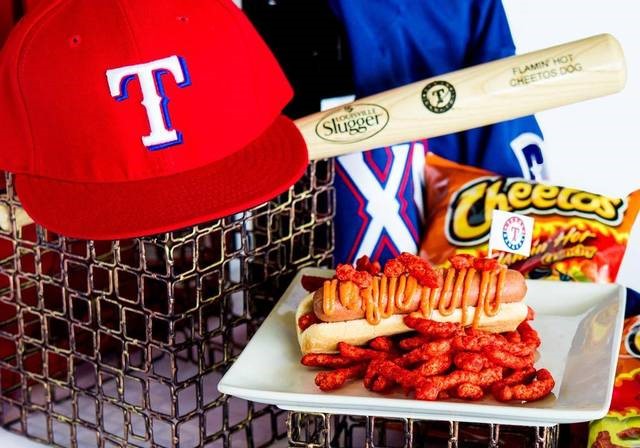 New in 2016: Flamin' Hot Cheetos Dog: All-beef hot dog topped with Flamin' Hot Cheetos infused Nacho Cheese and sprinkled with Flamin' Hot Cheetos for an atomic kick.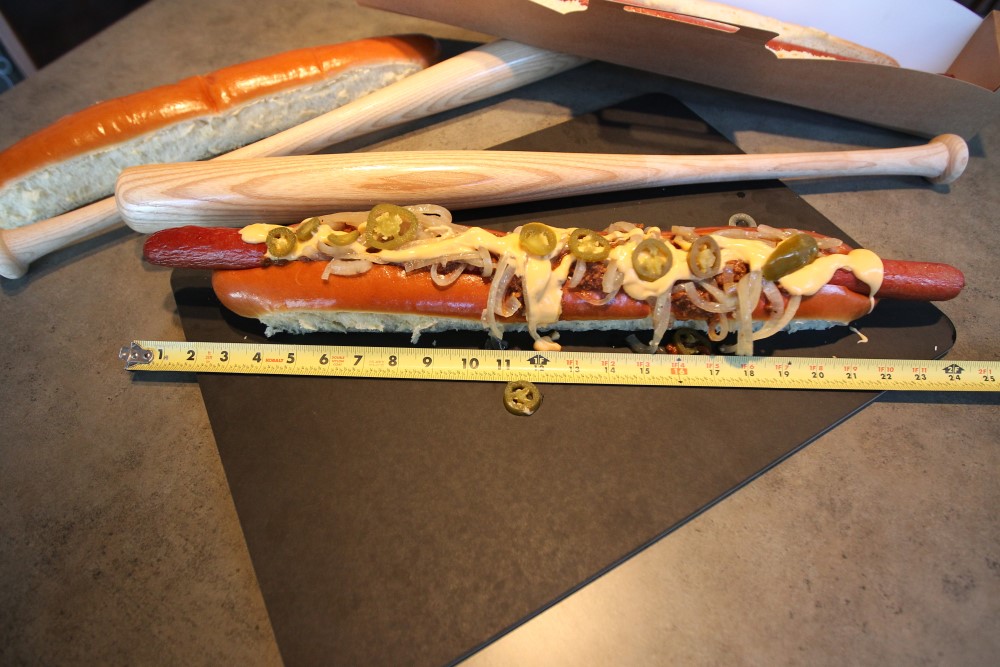 Boomstick: one-pound hot dog (large enough for three or four people) that's topped with the famous chili meat, sautéed onions, and cheese.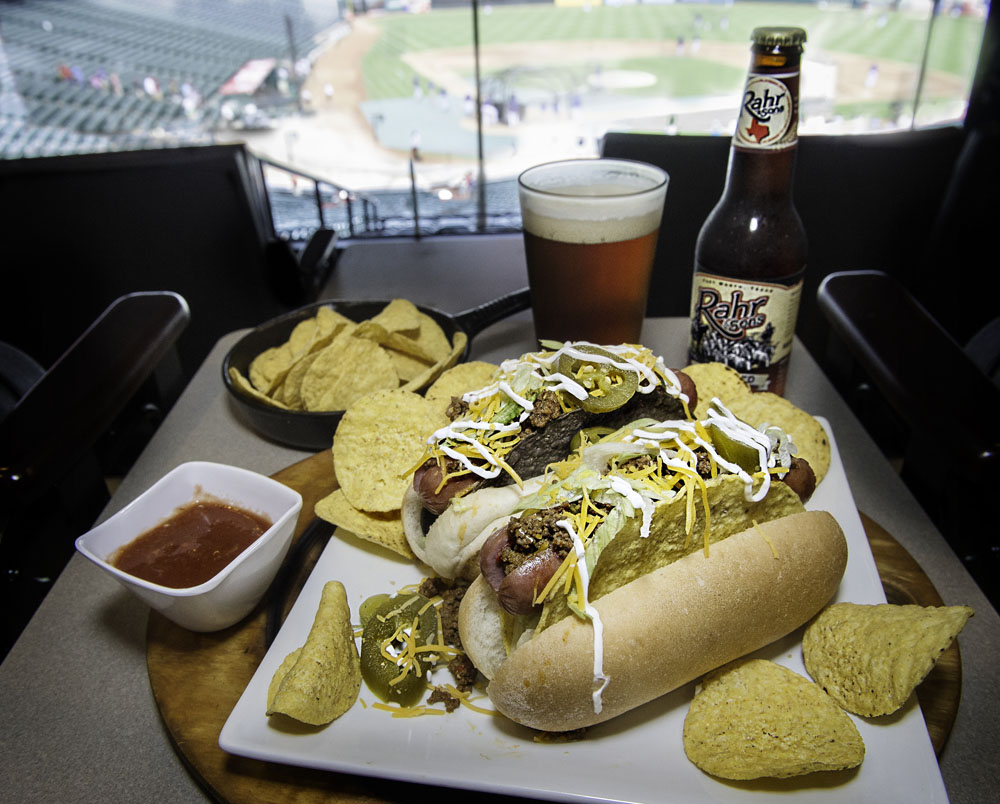 Texas Taco Dog: A crispy corn taco shell filled with a hot dog, shredded iceburg lettuce, shredded cheese, and fresh pico de gallo.
Sweet Spot Cotton Candy Dog: All jumbo all-beef Angus hot dog served on a bun, cover with infused Cotton Candy sauce and garnish with Cotton Candy and served with Lays Potato Chips.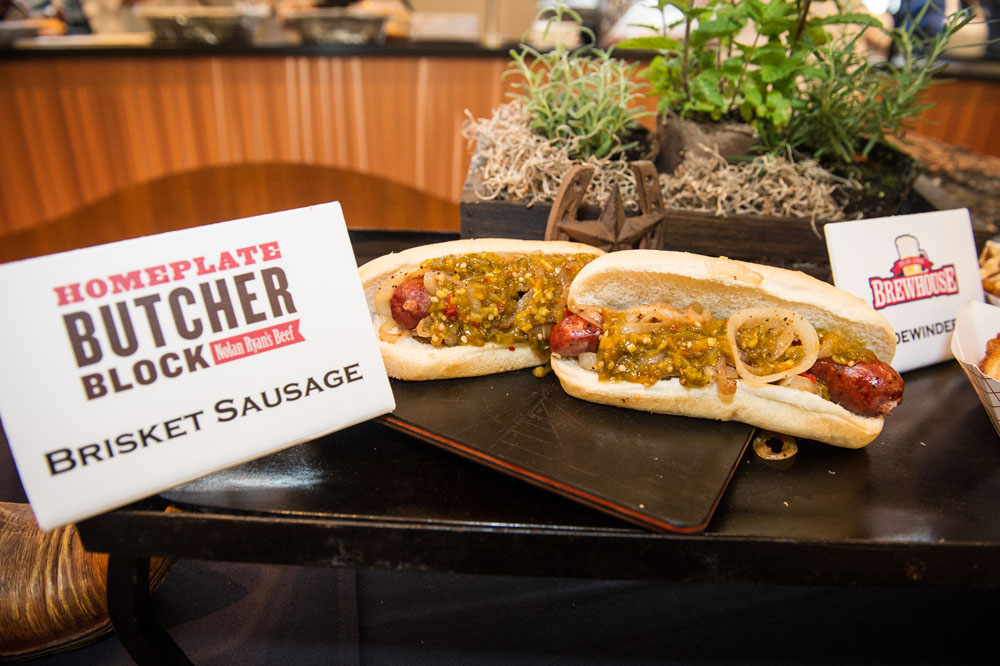 Brisket Sausage: Served on a six-inch hoagie roll with onions and Sweet Baby Ray's BBQ Sauce.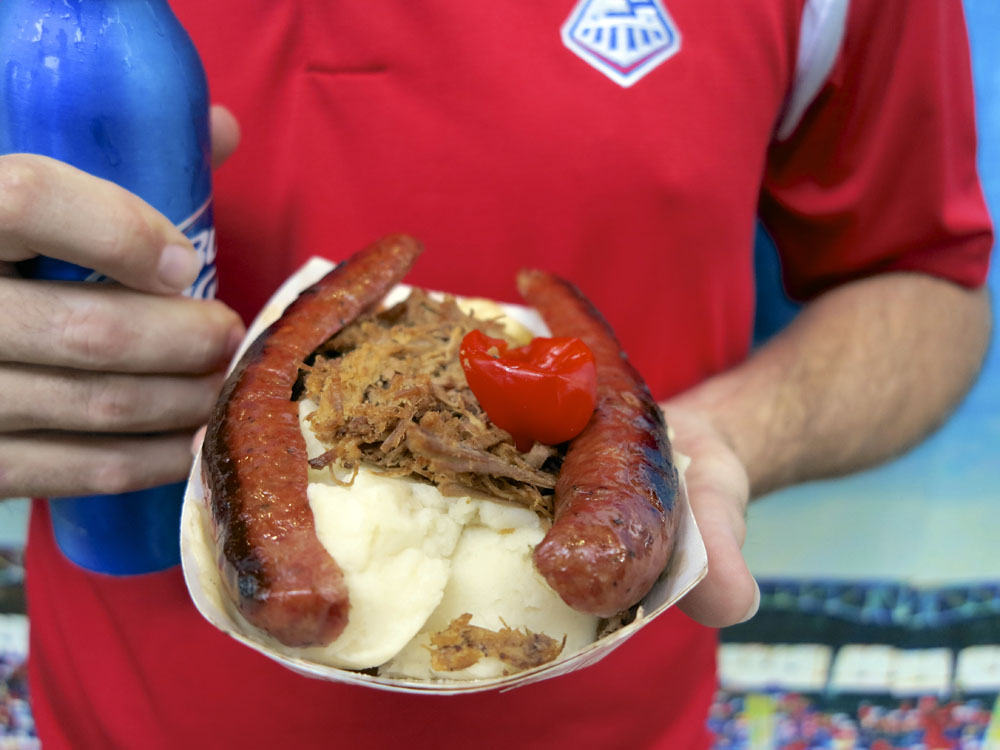 Sausage Sundae: A scoop of mashed potatoes dusted with parsley flakes, a scoop of smoked brisket, and a scoop of macaroni & cheese, between a split sausage with cherry pepper on top.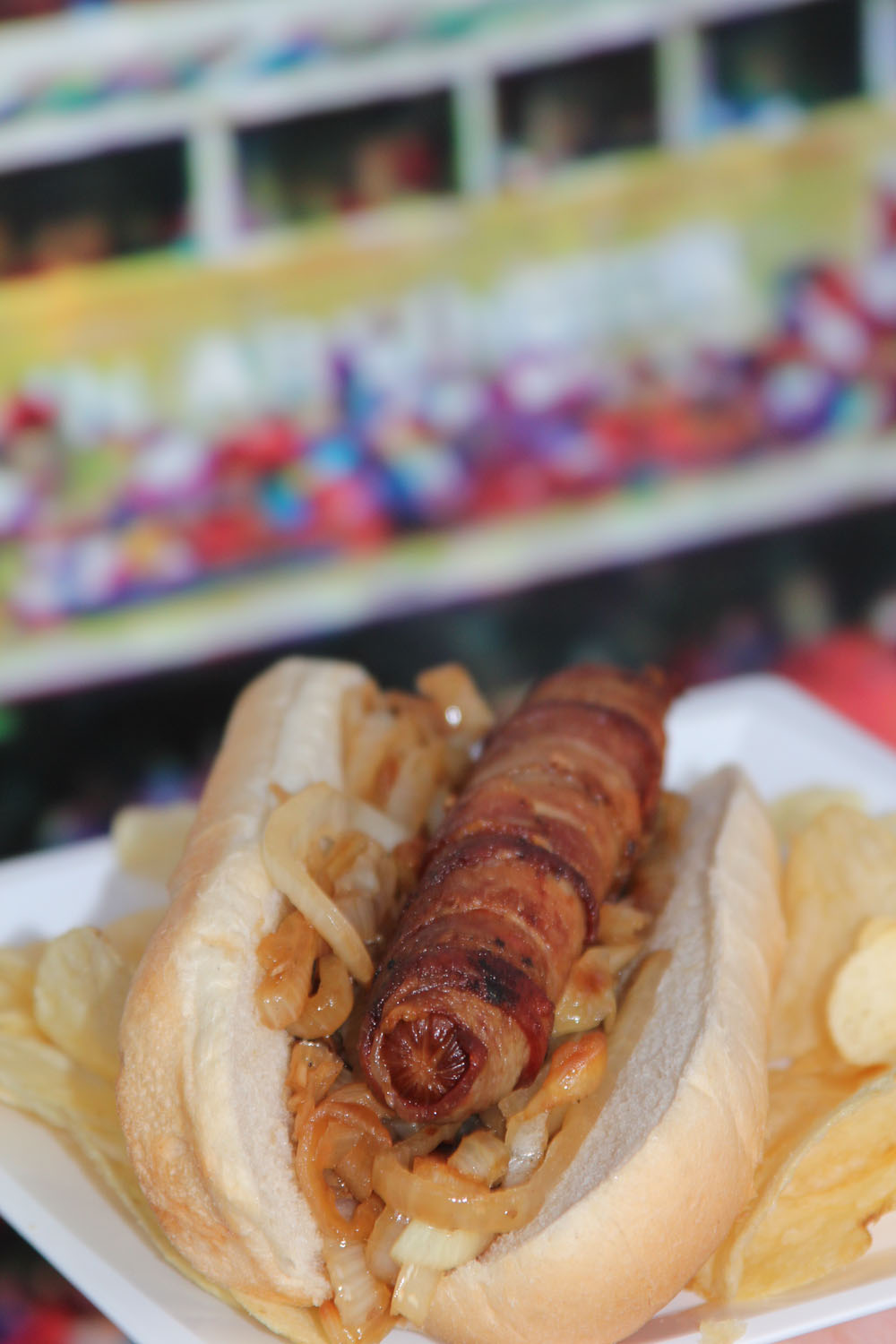 Bacon-Wrapped Dog: All-beef hot dog, wrapped with bacon, grilled to perfection and served on a hoagie roll.
Washington Nationals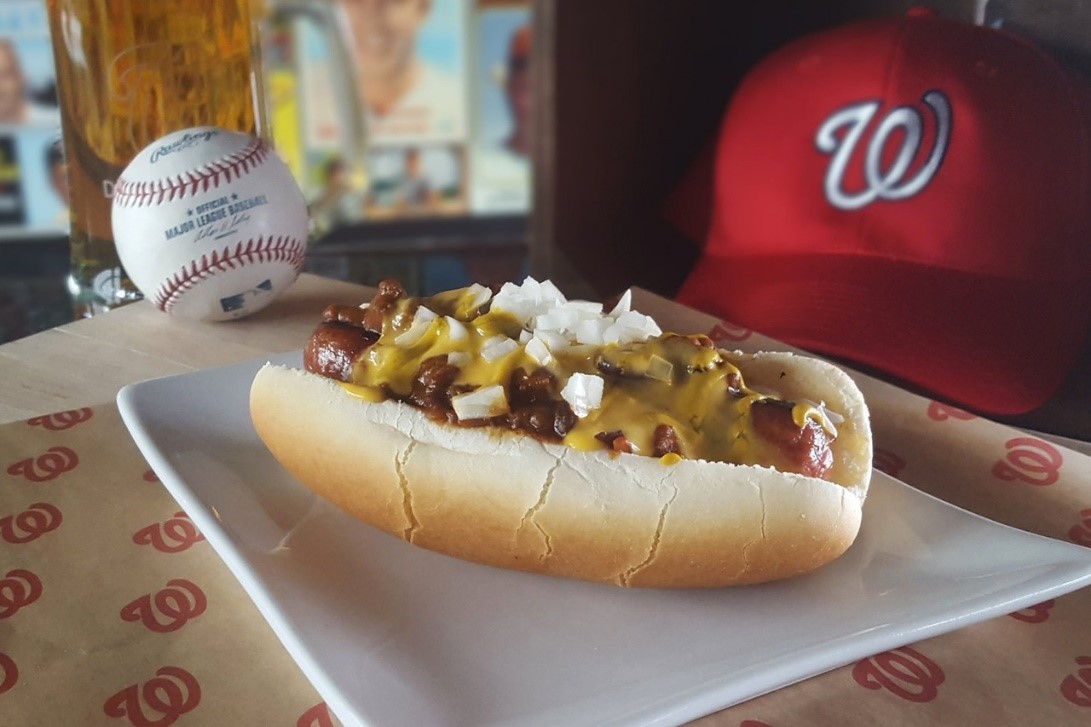 Ben's Chili Half Smoke: a grilled pork hot dog on a steamed bun and topped with mustard, onions and chili from Ben's Chili Bowl.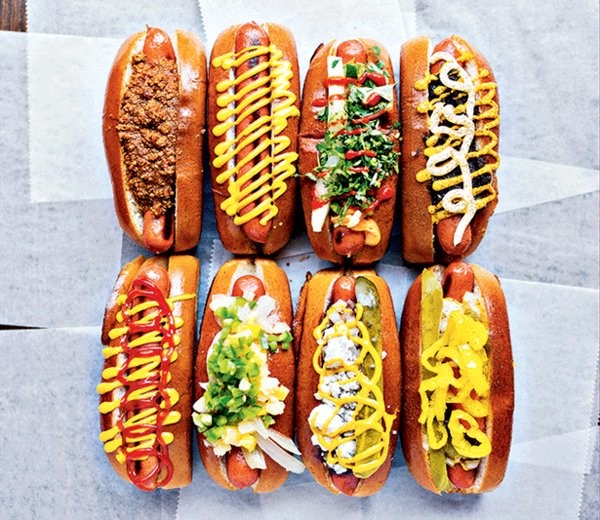 New in 2016: Haute Dogs: a local hot dog joint serving up hot-off-the-grill, gourmet hot dogs and hand-cut French fries. Their franks are made with local products and are served on a New England-style bun with fresh condiments.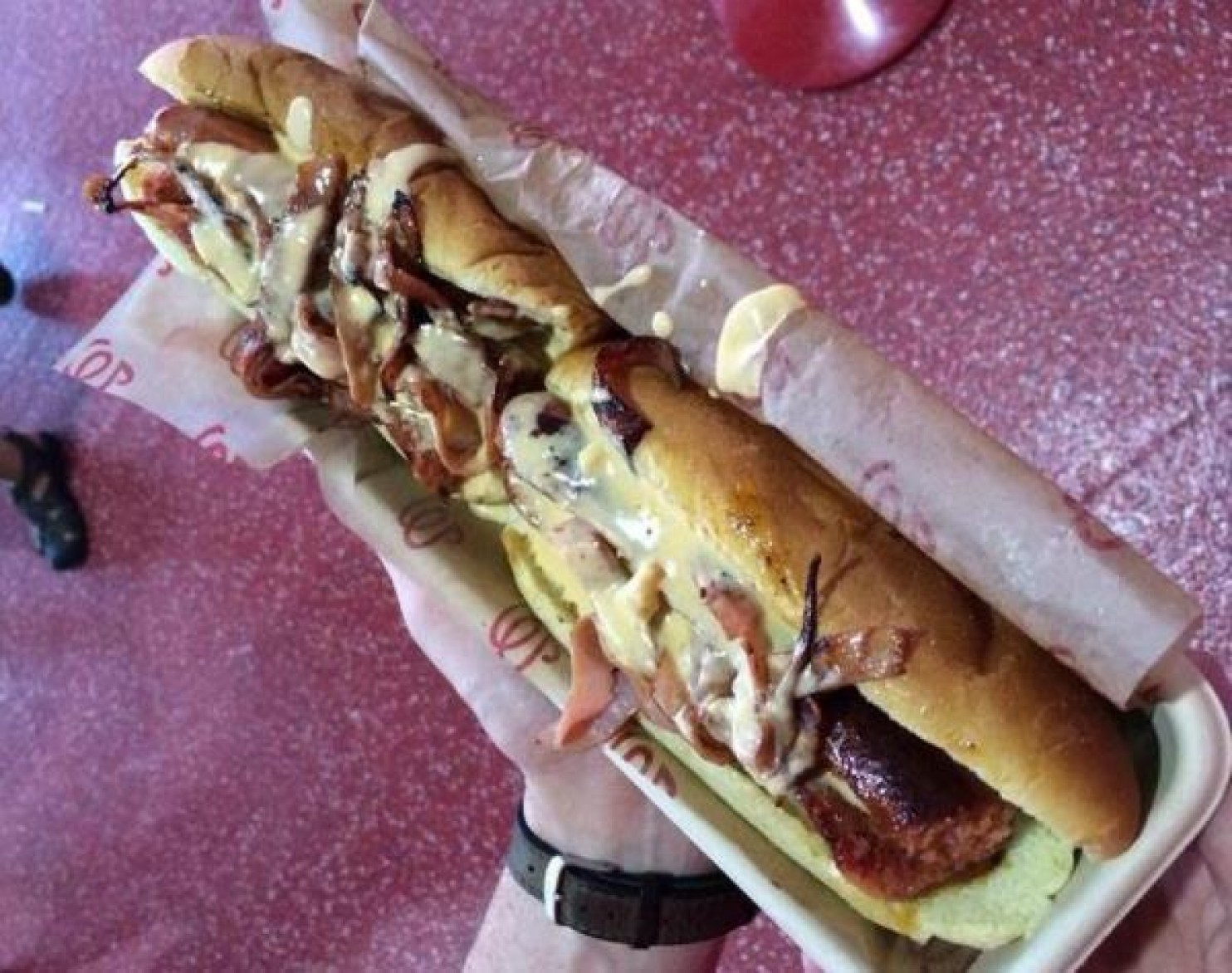 DMV Dog: D.C. footlong half-smoke with Maryland crab cheese and Virginia ham.