NHDSC
|
Monday, August 01, 2016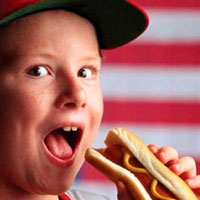 Hot Dog/Sandwich Debate to Continue at 2016 Chicago Hot Dog Fest This Weekend
Washington, D.C. August 1, 2016--At a time when American political ideologies are almost evenly split around two Presidential candidates, new polling shows Americans are far less divided about the question, "Is a hot dog a sandwich?"  Newly released poll results show that 57 percent of Americans say hot dog on a bun is NOT a sandwich compared to 33 percent who believe it IS.  Meanwhile, 10 percent remain undecided. 
The polling was conducted online among more than 2,000 U.S. adults ages 18 and older in May 2016 by Harris Poll on behalf of the National Hot Dog and Sausage Council (NHDSC).
The epic debate has dominated social media at times in 2016.  The polling reveals that Americans age 18-34 (64 percent) and 35-44 (61 percent) are more likely than their older counterparts age 65+ (44 percent) to believe that a hot dog is not a sandwich. In fact, Americans over the age of 65 (44 percent) are the only demographic group where more say a hot dog is a sandwich (50 percent) than is not. Southerners (62 percent), Northeasterners (58 percent) & Westerners (58 percent) are all more likely to agree that a hot dog is not a sandwich than Midwesterners (49 percent).
"It is clear Americans recognize the hot dog for what it is: a cultural icon that is a category unto itself," said NHDSC 'Queen of Wien' Janet Riley. "The people have spoken, and we hope this new data will help settle many of the heated debates that are still ongoing today."
In late 2015, when the social media debate was at its peak, the NHDSC officially declared that the hot dog is not a sandwich, saying "Limiting the hot dog's significance by saying it's 'just a sandwich' is like calling the Dalai Lama 'just a guy.'" The NHDSC also developed a list of a dozen reasons why the terms hot dog and sandwich are not interchangeable. The online debate has persisted with celebrities, politicians, professional athletes and Americans of all ages weighing in with their own take.
With such large scale discussion of this important issue, the NHDSC is taking its message to one of the most passionate hot dog cities in the country at the fourth annual Chicago Hot Dog Fest, presented by the Chicago History Museum this Friday-Sunday in Chicago's Lincoln Park. There Riley will debate Museum historian Peter T. Alter about whether a hot dog is a sandwich on Friday, August 5 at 4pm CT with the audience declaring the winner.
"It is the Chicago Hot Dog Fest, not Chicago Sandwich Fest, said Riley. "A sandwich fest, while still delicious, would have to work harder to draw tens of thousands year after year. The hot dog is a magnet for fans."
For more answers to common hot dog debates, questions and more visit www.hot-dog.org and for regular hot dog news and updates, check out the NHDSC on Facebook.
Survey Methodology
The survey was conducted online within the United States by Harris Poll on behalf of NHDSC from May 17-19, 2016 among 2,026 adults ages 18 and older. The survey is not based on a probability sample and therefore no estimate of theoretical sampling error can be calculated. For complete survey methodology, including weighting variables, please contact Eric Mittenthal.
About The Harris Poll
Over the last 5 decades, Harris Polls have become media staples.  With comprehensive experience and precise technique in public opinion polling, along with a proven track record of uncovering consumers' motivations and behaviors, The Harris Poll has gained strong brand recognition around the world. Contact us for more information.
About the National Hot Dog and Sausage Council
Established in 1994, the National Hot Dog and Sausage Council conducts scientific research to benefit hot dog and sausage manufacturers. The Council also serves as an information resource to consumers and media on issues related to quality, safety, nutrition and preparation of hot dogs.